Oregon Protests
Want to learn about Oregon History every day? Like The OE Facebook and Twitter pages to see our daily history posts.
---
Anti-Nuclear Movement
---
Industrial Workers of the World
The Industrial Workers of the World (IWW or "Wobblies"), founded in 1905 and crushed for its opposition to World War I in 1917-1918, was the most active and most actively opposed revolutionary union of its time. In Oregon, the IWW was rooted in lumber camps and mills in the western part of the state and among field hands in eastern agricultural areas. Working conditions were poor in those industries, and employers strenuously fought unionization, particularly by the IWW, which refused to make agreements with capitalists and advocated sabotage on the job.
By conducting most of its organizing on the streets, in contrast to the shop-floor campaigns of the AFL, the IWW gained a deserved reputation for being disruptive. In 1912, for example, IWW activists heckled Robert Baden-Powell, the founder of the Boy Scouts, while he spoke to a large and otherwise admiring crowd in Portland. During a cannery strike in the summer of 1913, the city government and its police force repeatedly jailed IWW members in order to halt public protests. The protests were one of the "free speech fights" the union organized in the region, when they would call in outside reinforcements to fill a town's jail until authorities gave up and allowed them to speak publicly.
---
State of Jefferson
In 1941, some residents of northern-most California and southwestern Oregon—where people had long been resentful of the political power held in Sacramento and Salem by more populous districts—promoted the idea of a separate state. Believing that their largely rural region was not receiving its fair share of federal defense and state public-works money, their publicity-seeking "secession" movement gathered steam to form a forty-ninth state, the State of Jefferson. The idea of the State of Jefferson is now part of the lore and self-identity of the region. Businesses and other enterprises, such as Jefferson Public Radio, have taken the name. Some local environmentalist organizations use the term to promote a regional identity. Nearly every major election is followed by dissatisfied "Jeffersonian" voters writing letters to the editor urging their fellow citizens to break away from the urban-dominated control of Salem or Sacramento. More recently, local conservative and property-rights groups have latched onto the name as a rallying cry.
---
Klamath Basin Project
After a winter of drought in 2001, a court order under the Endangered Species Act forced the Bureau of Reclamation to curtail irrigation of Klamath Project farms in order to meet the water needs of wild Coho salmon and two species of Upper Basin suckers. Protests and counter-protests soon followed. On May 7, local farmers and ranchers gathered in Klamath Falls to form a "Bucket Brigade" in protest of the water cutoff. In July, anti-federal militants joined farmers at the headgates to install and guard pumps and pipes that sent Klamath River water directly into the main irrigation canal. In August, Secretary of the Interior Gale Norton delivered 75,000 acre-feet of irrigation water from Upper Klamath Lake to Project fields. It was a political but not a practical victory, coming too late for most farmers to plant crops that would use the water.
---
Jehovah's Witnesses Riots, 1942
---
Julia Ruuttila
Julia Ruuttila was a labor and investigative journalist, a poet and fiction writer, and a union, peace, and justice activist who lived all but a few years of her life in Oregon. In 1962, Ruuttila returned to Portland, where she joined the Portland Longshore Auxiliary and served as the chair of their Legislative Committee. She was active in the Women's International League for Peace and Freedom's campaign to prevent the transport of nerve gas to the Chemical Depot in Umatilla, protested the Vietnam War, and worked to draw the labor movement into the anti-war struggle. Ruuttila said she had been arrested for the first time during the IWA lockout. Her last arrest was in 1975 for sitting in at the Pacific Power & Light offices in Portland in protest of electric rate hikes.
---
14th Amendment
The Fourteenth Amendment to the U.S. Constitution declared that the federal government would guarantee the rights of citizenship to "all persons born or naturalized in the United States." No state could "deprive any person of life, liberty, or property, without due process of law; nor deny to any person within its jurisdiction the equal protection of the law." Passed by Congress in 1866, the law was clearly intended to safeguard the rights of recently freed slaves in the South, where whites were working hard to subjugate them.
Most white Oregonians had opposed both slavery and the presence of blacks in Oregon since the early 1840s, but the Civil War had divided the Democratic Party and boosted the power of the Republicans. The Oregon legislature ratified the Fourteenth Amendment in 1866 by a narrow margin. Two legislators protested that the amendment would "change, if not entirely destroy, the republican form of government under which we live, and crush American liberty." The same legislature passed a law prohibiting racial intermarriage.
---
Marie Equi
Dr. Marie Equi was a fiercely independent Oregon physician who was engaged in the political turmoil and social change of the late nineteenth and early twentieth centuries. She was a fearless advocate for woman's suffrage, labor rights, and free speech, and her raucous protests against imperialism and war gave her a reputation in Portland as one of the most outspoken agitators in town. For all her boldness, Equi was a dedicated caregiver who held her profession so dearly that even her close companions called her "Doc."
---
Nimrod O'Kelly
In 1852, Nimrod O'Kelly was convicted of murder in Oregon in the first officially recorded homicide case before the Oregon Supreme Court. At the age of sixty-five, O'Kelly came to Oregon on the Overland Trail in 1845 and staked a one-square-mile land claim in the heart of the Willamette Valley, as allowed by Oregon's Provisional Government. In 1848, the U.S. government took possession of Oregon Country and subsequently reduced the size of existing land claims to a half-square mile for unmarried citizens. O'Kelly contended that he was married and thus entitled to a full square mile. He said his family was in Missouri and would arrive in future migrations. By 1852, however, no family had appeared. Settlers began to encroach on O'Kelly's claim. On May 13, 1852, he shot and killed Jeremiah Mahoney in a quarrel over boundaries. He was tried in June and found guilty of first-degree homicide despite his pleas of self-defense and defense of property. He was sentenced to be hanged in August. Citizens of several communities signed petitions protesting the sentence; but after two years of legal maneuvering and delays, the Oregon Supreme Court upheld the original sentence.
---
Martina Gangle Curl
| | | |
| --- | --- | --- |
| | | Martina Gangle Curl was a painter, printmaker, and woodcarver who created figuratively based works in an emerging Northwest modernist style. Born near Woodland, Washington, in December 1906, Martina Gangle began work as a migrant fruit-picker by age eight and attended a small country school. At fourteen, she moved to the Lents district in Southeast Portland and entered Franklin High School, where her artistic talents received attention. A long-time dedicated labor and social activist, she often used her art to express her political beliefs. As her attention became increasingly focused on political activism after the 1940s, she protested social injustice whenever she saw it and was arrested numerous times. In 1977, the Curls opened the John Reed Bookstore in Portland's Dekum building. |
---
Bonus Army
In 1932, with the Northwest lumber industry hit especially hard by the Depression and with "Hoovervilles" springing up in the city's Sullivan Gulch and elsewhere, Portland became a center of activity for a direct-action political movement known as the Bonus Army. By late 1931, thousands of unemployed World War I veterans across the country had begun to call on Congress to pay their long-promised enlistment bonus ten years early (it was not due until 1942). In the opening months of 1932, Portland veterans became increasingly vocal, some of them calling for a veterans' march on Washington, D.C. It was in Portland that Walter W. Waters, a native Oregonian, first emerged as a forceful and colorful leader of the Bonus Army movement. Born and raised in Burns, Sergeant Waters had served in France and had seen combat at Saint Mihiel and Chateau-Thierry. With the onset of the Depression, Waters's small business endeavors failed; he survived as a "fruit tramp" before coming to Portland. Waters took easily to public speaking; and with veterans calling for "the Bonus now," he promoted the idea of a veterans' march to present their demand to Congress.
---
Charles Davis
Charles Davis was a distinguished Oregon businessman, public servant, and public citizen. A conscientious objector in World War II, he was an important figure in the development of the Oregon affiliate of the American Civil Liberties Union (ACLU). Beginning with his time at CPS #21, where he helped lead a protest of the proposed removal of conscientious objector George Yamada to an incarceration camp, Davis was passionately interested in the treatment of Japanese Americans during World War II. During the last years of his life, he researched the issue and raised public awareness of the effort to incarcerate Yamada. Just months before his death on July 4, 2002, he received an award from the ACLU for his efforts.
---
Mary Perry Stone
Over the course of her ninety-eight years, artist Mary Perry Stone tirelessly combated war and injustice. Her weapons were the stroke of a paintbrush and the artful collision of color, creating art she hoped would "transcend [society's idea of] the pretty to hit the soul." In her long career, she produced sculptures, paintings, and over fifty murals. Stone believed that as an artist it was her obligation to create art that "says something about the world." She did so by showcasing the horrors brought on by war and prejudice, taking a stand that demands social change. Her work was exhibited at the Metropolitan Museum of Art, Carnegie Hall, New York University, and Rockefeller Center, and she was one of forty women sculptors on the New York City Federal Arts Project in 1937. After the eruption of World War II, the Federal Arts Project was discontinued, and many works of art were lost. Rumor has it that the missing works were pitched into New York's Eastside River. Tragically, none of Stone's WPA works remain.
---
William McClendon
William McClendon was a writer, journalist, intellectual, activist, and jazz musician who was a prominent member of Portland's civil rights community from 1938 until his death in 1996. He was the founder and editor of the Portland Observer, a short-lived but vitally important newspaper that focused on issues facing African Americans in Portland before and during World War II. In June 1943, McClendon published the People's Observer at the behest of the Shipyard Negro Organization for Victory, an activist group formed in November 1942. He was employed at the shipyards when the first issue of the Observer was printed, but would be fired that July after leading a protest to address complaints about racial epithets aimed at black female employees. The bimonthly newspaper was intended to "fight social and economic evils detrimental to the Negro people and other minorities," according to McClendon, and it became a mouthpiece of the civil rights coalition and an important part of the black community.
---
Fred Milton
In a time of social and racial turmoil in the late 1960s, the Black Student Union at Oregon State University staged a protest, walking off campus on March 5, 1969, because football coach Dee Andros had kicked African American linebacker Fred Milton off the team for sporting a mustache and goatee. Andros, a demanding, old-school coach, would not tolerate players who breached disciplinary rules, including those related to hair. After a forty-minute meeting between coach and player, neither side would budge, with Milton arguing that Andros's prohibition of facial hair violated his human rights. That this occurred during the off-season made no difference to Andros, although it was known that some white players sported long sideburns during the winter.

Andros's decision made national news and connected OSU to other racially charged incidents on college campuses and riots taking place in the black neighborhoods of many major American cities. The incident highlighted the issue of racial and cultural differences at the university and in the conservative Corvallis community of about thirty-five thousand people. Although the football team had been integrated for several years, no black players on the men's basketball team had scholarships until 1966
---
Siskyou National Forest
The Siskiyou National Forest was important to Oregon in the production of timber, with up to 168 million board feet of timber sold annually. But by the 1980s, concern over the possible extinction of old-growth-dependent species was increasing. Lawsuits over protection of the northern spotted owl and certain salmon species blocked most timber sales. Public debate over the best uses of forest resources reached a fever pitch in the late 1980s to early 1990s. Galice and Illinois Valley ranger districts became ground zero in the Northwest "Timber Wars," a rift among environmentalists, the timber industry, and the Forest Service. Bald Mountain was the first place where Earth First! activists lay in the path of bulldozers to protest the logging of old-growth forests. In one of many acts of civil disobedience, a demonstration at the forest headquarters in Grants Pass moved from the parking lot to the roof of the building and then inside to the lobby, where protestors chained themselves to office furniture. To break the deadlock, President Bill Clinton produced the 1994 Northwest Forest Plan, which severely reduced the volume of timber available from the forest and placed an emphasis on long-term forest health. After the Biscuit Fire in 2002, protests against logging fire-killed trees were vehement, but by that time the Forest Service had incorporated principles of sustainability into preparing the timber sales and all lawsuits on the issue were dismissed by the courts.
---
Coxey's Army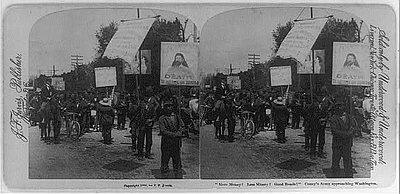 A unique response to the Panic of 1893 and perhaps the first "March on Washington" was prompted by Ohio businessman Jacob S. Coxey's proposal for a federally financed road-building program to put the unemployed back to work. To gain popular support, Coxey organized a United States Industrial Army to march on Washington, D.C., in 1894 and demand that Congress legislate the jobs program into law. The "petition in boots," as Coxey called it, became popularly known as Coxey's Army. In Oregon, 446 men of the Fifth Regiment began to march east on April 25. They walked on the Union Pacific tracks to Troutdale, where they were enthusiastically received, fed, and housed. On April 28, they commandeered a special train and headed east. The men got only as far as Arlington, where they were arrested by the U.S. Cavalry and returned to Portland. After a rally in the Plaza attended by 1,500 supporters and a trial, at which C.E.S. Wood testified for the Coxeyites, the Army's leaders were released on promises of good behavior. On April 30, Portland workers loudly cheered their new heroes at a protest attended by 3,000 men and 100 women.
---
Siskyou Regional Education Project
Hundreds of protesters gathered in 1995 to stop logging related to the Sugarloaf Timber Sale near Oregon Caves National Monument. Many protestors were arrested, including Siskiyou Regional Education Project Executive Director Steve Marsden and Congressman Jim Jontz from Indiana. Although the timber sales eventually went forward, Siskiyou Project staff used the publicity—including a live CNN broadcast and other national media coverage—to gather more members and expand operations. In 1997, the Siskiyou Project hosted its First Conference on Siskiyou Ecology, attended by 300 scientists, students, land managers, and local citizens. The Siskiyou Field Institute offered over 33 science-based courses, and in 2004 became its own nonprofit organization in partnership with Southern Oregon University.
---
Portland Reporter
---
Beatrice Morrow Cannady
Two years after joining the Advocate, Cannady became a founding member of the Portland NAACP. She quickly emerged as its most powerful voice when she directed the local protest against the controversial anti-black film, The Birth of a Nation. Cannady and other community leaders carried on a fifteen-year campaign to limit the showing of the film. In 1928, NAACP Executive Secretary James Weldon Johnson invited her to address the association's convention in Los Angeles. In her speech, which followed the keynote by W.E.B. DuBois, she said, "It is the duty of the Negro woman to see that in the home there are histories of her race written by Negro historians. . . . The Negro mother has it within her power to invest less in overstuffed furniture . . . and more in books and music by and about the Negro race so that our youth my grow up with a pride of race which can never be had any other way."
---
Klamath River
In 2001, a water and wildlife crisis roiled the communities that drew from the waters of the Klamath River. Lawsuits invoking the Endangered Species Act forced the Bureau of Reclamation to curtail distribution of water for irrigation on federal Klamath Project lands, and farmers responded with protests and acts of civil disobedience. Vice President Dick Cheney intervened on their behalf, and the following year farmers once again received water for irrigation. That fall, with high temperatures and low oxygen levels in the river, tens of thousands of mature Chinook salmon died in the estuary and countless juveniles died. The loss of fish required severe restrictions on salmon fishing along the California and Oregon coasts in 2005 and 2006.
---
Vortex I Music Festival
---
Henk Pander
The Dutch artist Henk Pander arrived in Portland in 1965 and, except for brief periods, has lived there ever since, creating works that challenge status quo modern art of the Pacific Northwest. In his drawings, watercolors, and oil paintings, Pander depicts subjects ranging from the death of friends to erotic fantasies, and from the skylines of Portland and Amsterdam to abandoned airplanes and automobiles in the American West. Although Pander willingly and skillfully paints to address popular taste, he also creates works that have made him controversial. His solo exhibition at Portland State University in 1969 caused fierce reaction, with viewers attacking Pander's work as "pornographic" and "depraved." The show included paintings and drawings that Pander created at the height of the Vietnam War and its resulting social protests and sexual revolution. His contorted figures in compromising poses and counterculture actions dismayed Portland viewers even though the works drew upon Expressionist and Surrealist traditions that had been part of the European art scene for much of the twentieth century.
---
National Forests in Oregon
Petitions to dismantle the Cascade Range Forest Reserve came in 1895-1896. The protests came from sheep owners in north-central Oregon, a few homesteaders in or near the reserve, and miners in the Bohemia Mining District. The entire Oregon congressional delegation was ready to eliminate or severely reduce the Cascade Range Forest Reserve until William Steel spent several months in Washington, D.C., persuading the president and bureaucrats to keep the reserve intact. Meanwhile, Waldo and others from the Mazamas, an Oregon mountaineering group, kept up a steady letter, petition, and telegram campaign to the president, Congress, and the General Land Office. By the late spring of 1896, their combined efforts were successful in keeping the reserve intact.
---
Gay and Lesbian Rights in Oregon
| | | |
| --- | --- | --- |
| Gays first began organizing in Portland in early March 1970. They advertised their cause in the pages of The Willamette Bridge, a counter-culture newspaper that began in 1968 and carried news about Vietnam, the Black Panthers, Students for a Democratic Society, rock concerts, alternative lifestyles, and the environment. Although the social element was important to these early activists, they immediately identified politics as central to their purpose. They outlined a plan to speak in college classes and to church and civil groups, to provide radio and television interviews, to write articles for the press, and to lobby for the abolition of legislation that oppressed gays. Gay Liberation in Portland also led to the formation of local organizations such as the Second Foundation, which on May 7, 1972, opened the first gay community center in Oregon. | | |