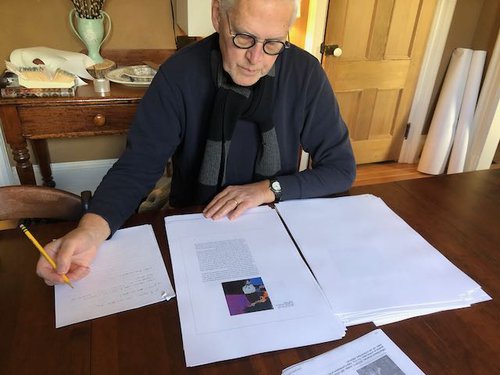 Roger Hull, Emeritus Professor of Art History at Willamette University, faculty curator at the Hallie Ford Museum of Art, scholar, author, Oregon Encyclopedia Board Member
In Deepest Gratitude
After serving The Oregon Encyclopedia for almost twenty years, art historian Roger Hull stepped down from the OE Editorial Board in January 2023. He passed away in October 2023. A direct, empathetic reviewer and adviser--and enormously witty--he advised OE editors on the content and publication of countless entries and authors and was largely responsible for the depth and breadth of The OE's art-related entries. He was committed to the project from the very beginning, and was a steady advocate for its mission as an authoritative and free public history resource. As a member of the OE Executive Committee, he advised and supported the editorial staff in making their most difficult and ambitious decisions. The OE is an important resource on Oregon art and artists because of Professor Hull.
Professor Hull earned his B.A. from Whitman and his M.A. and Ph.D. at Northwestern University. He taught art history at Willamette University for forty years, beginning in 1970. He co-founded the Hallie Ford Museum of Art in Salem (1998) and served as the Senior Faculty Curator. His many published monographs include Manuel Izquierdo: Myth, Nature, and Renewal; Henk Pander: Memory and Modern Life; Louis Bunce: Dialogue with Modernism; and The Life and Art of Jan Zach.
In his writing, in the monographs and in his many encyclopedia entries on The OE, Professor Hull's deep knowledge of the history of art--and its cultural and emotional power--is apparent. His generosity in sharing that knowledge with the rest of us was matched only by his modesty, a trait that informed his instructional style both in and out of the classroom.
Our gratitude to Roger Hull for his contributions to and support of The OE cannot be adequately expressed on this page. But we are pleased to present his entries to readers and to recognize him for making The OE a valuable resource on art and artists in Oregon.